Christmas Lighting Installations in Sugarland, Richmond, Stafford, and Rosenberg, Texas Area (Fort Bend County).
Commercial and Residential
Wooten Services has been installing Christmas Lights in the Ft. Bend County area for overW twenty years. We can place your Holiday Lighting on most any surface area: Outline your roof, trees, gutters, flowerbeds, sidewalks and, driveways!
You may wish to use your own plans or see some of our custom designs for the Holiday Season! We can use your lights or we can make custom strands that will endure many years for your investment!
For commercial accounts we can incorporate lighting into your landscapes and windows!
Installation and Removal
Custom Strands
Roof Outline
Driveway, Sidewalks and, Trees
We us C-5,C-7,C-9 bulbs, LED and Icicle Lighting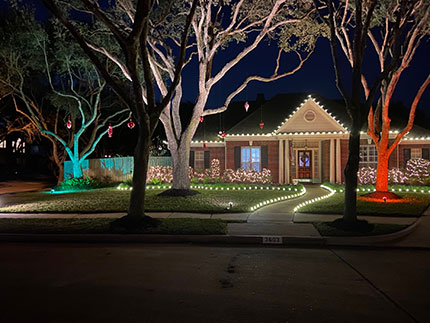 Call 281-726-2034 or contact us today and a representative will get back to you promptly!